Is the High Street Dead?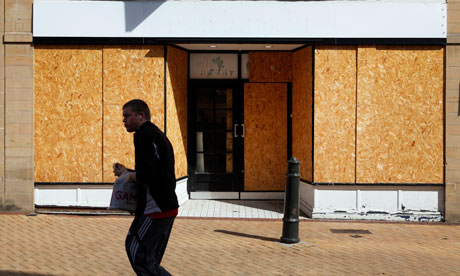 Is the high street dead? This is a question that has grown in popularity over the past few years and with the closure of many major high street retailers such as HMV, Jessops and Blockbuster it is easy to believe that the high street is dying.
The figures in the UK are startling. According to the Grimsey Report, nearly 50% of all retailers are in the warning area, and by definition at serious risk of failure. There are over 40,000 empty stores on the UK high streets. These figures are frightening and are on track to get even worse.  The Connected Retail report by Amaze states that wage inflation is at 1% while headline inflation is at 3%. Anybody can realise that this is a major problem and will not help the high street recover. Technology is causing major problems for the majority of high street retailers. Brick and mortar stores have remained flat in terms of sales in the past five years while online sales have soared by 222%. Asos, an online retailer, have just announced a 47% rise in retail sales for its fourth quarter soaring to £207.9 million in the three months to the end of August 2013. These figures paint a very bleak future for the future of the high street.
Despite all the doom and gloom the high street is not dead. It is being reborn. Brick and mortar shops are still important for 90% of shoppers. We are entering a retail renaissance, driven by technology and at its heart is the consumer. The consumer experience will be essential to success of retailers. Understanding the individual customer and developing meaningful relationships will be key to rebuilding the high street. Stores will be evolving into showrooms. Sir Terence Conran believes that soon, all his shops would become showrooms. Locations will be smaller and prime sites will become a priority for retailers. Staff will be smarter and more equipped to meet the demands of a tech-savvy customer. Brands such as Apple and Burberry are prime examples of how retail is being reborn into something that is fun, exciting and above all is an experience that the customer values.
In-store digital media is becoming the catalyst in this revolution. It is allowing for the evolution of stores into showrooms; improving service delivery, delivering personalised experience and enhancing brand experiences. It will allow stores to become brand ambassadors; delivering rich digital in-store experiences that flow seamlessly from the online brand environment. This creates sales and will benefit the high street.
The high street renaissance is also being driven by online retailers through a movement called 'clicks to bricks'. Online retailers are setting up brick and mortar stores on the high street that offer a real-world experience of their e-commerce sites. These stores allow online retailers to create a seamless brand experience in which customers can interact with products and are able to touch and feel what they see online. In-store digital media is used to further enhance the experience offered to customers. POPAI have published a report, 'Clicks to bricks', that emphasises the rise of clicks to bricks and gives some interesting examples of online retailers setting up brick and mortar stores.
Online retailers are becoming less of a threat and more of a benefit to the high street. In-store digital media is creating more meaningful experiences, improving service delivery, enhancing brand experiences and above all reinventing the high street. As the saying goes, 'there are never any problems only opportunities'.  Retailers that can adapt will flourish.
Great Examples
Audi City
Audi have developed a futuristic showroom called Audi City in Piccadilly Circus, London and is the perfect example of how in-store digital media is creating an experience for customers in these showrooms. Audi are using interactive, digital media such as interactive touchscreens, impressive video walls and gesture technology to create this unique experience for their customers.
Kate Spades Saturday
Kate Spades Saturday teamed up with eBay to create a high street presence for their online brand. Four window shops on the high street were built using interactive digital media that allows customers to buy and receive their goods within an hour of purchase.