In-Store Technologies are Changing the Way We Shop

In-store technology is changing the way we shop as both consumers and retailers are being impacted by advancing technology. These technologies are creating a more interactive shopping experience, giving retailers a greater opportunity to create a seamless online and offline experience for consumers.
There are countless examples of technologies that have tried to change the way consumers act and behave, some were successful while others not so much. In the next few articles we are going to explore some of these exciting technologies and going into detail to show how they are changing retail and the way we shop. In this article we are going to quickly look at four main technologies that are impacting and will further impact the way we shop;
Touch Screens
Augmented Reality
Mobile Devices
Beacons
Touch Screens
While this technology isn't a recent development, it has been around for a number of years, it has recently begun to really change-up the retail environment with lot of exciting developments. This technology gives retailer the opportunity to develop an omni-channel solution and create a seamless online and offline experience for consumers.
A great example would be when Kate Spades & E-bay teamed up to seamlessly integrate physical and digital worlds. The pair managed to deliver a true multi-channel experience for their consumers; integrating window shopping, touchscreen and e-commerce. The process was very simple as consumers would look at products in the store window, purchase and have products delivered via e-commerce touchscreen. The result was very impressive and shows how technology gave an online retailer a presence on the high street.
Audi City is another great example of how touch screens can change the way we shop. Audi decided that they wanted to really improve the retail experience and consumer journey in their showrooms. Audi created an exciting and immersive shopping experience for their customers with amazing interactive touchscreens instead of endless rows of cars. The experience is very visual and interactive, allowing the customer to be part of the whole shopping journey as they customise their new car to their own taste using the touchscreens that surround the showroom. The interactive showroom had an immensely positive result for Audi and sales in their interactive showrooms have surpassed sales in the more traditional glass palaces.
Our own work with Vodafone has proved that touchscreen technology can enhance the sales process particularly where there is complexity in the purchase decision. Users can build their own mobile plans based on their usage and this has led to increased conversion rates on bill pay plans.
Mobile Devices
Smartphones and tablets are now commonplace for consumers and many of us cannot bear to imagine being without our precious smartphone. Retailers are realising the importance of mobile devices and are starting to take advantage of this technology to revolutionise the way we shop.
Some retailers are focusing on engaging younger consumers, who are the biggest users of mobile technology, and creating a seamless experience whether they are interacting with the retailer in-store or on their mobile device.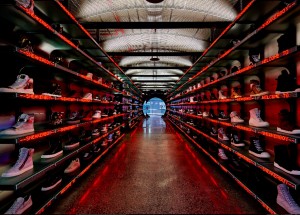 Sneakerboy is a trendy Australian footwear company that has taken advantage of mobile devices and changed the way their consumers shop, combining e-commerce and brick & mortar stores to create a new retail environment. Customers try on in-store shoes and purchase their shoes on in-store iPads or on their own smartphone. The purchase is seamless and the shoes are delivered to their home within 2/3 days. The technology has turned a shoe store into a showroom that focuses on a seamless online and offline shopping experience, engaging younger consumers and ultimately increasing sales.
Augmented Reality
For those who are unfamiliar with Augmented Reality, it is a type of virtual reality that aims to duplicate the world's environment in a computer.
It is a technology that has generated a lot of interest and excitement throughout the years, but more often than not deployments lacked usability and failed to really change the retail environment.
However, recent advances in this technology has vastly increased the potential of augmented reality, especially for retailers, and has sparked an increased interest in this technology.
An exciting example of how augmented reality can change the way we shop is the Virtual Style Pod. This is a virtual changing room that uses augmented reality to create stylish outfits and allows the user to share across social media. This was used in Dubai and created an interactive experience for consumers. It got a great response from consumers and I feel that we can expect to see more retailers attempting to use this interactive technology. However, I expect there is still a long journey ahead before retailers effectively scale this technology to change the way we shop. Features such as e-commerce & mobile integration and seamless transitions will have to be developed and improved before the technology really changes the retail environment and the way we shop.
Beacons
Beacons are another in-store technology that has generated quite a bit of hype recently. Beacons use Bluetooth low energy that can be picked up by more recent smartphones. This technology is growing in popularity with more than half of US retailers testing beacons in-store.
Beacons bring a new level of interaction between retailers and consumers. Retailers can give consumers relevant content based on where they are or what they are doing in-store.
Consider this shopping journey.
Beacons outside the store can urge consumers to come into the store with special offers and promotions.
Consumers are then given rewards for coming into the store and can set up a payment system  on their mobile device
Beacons then give personalised product information and location-based promotions while the consumer walks through the store.
When the consumer want to purchase a particular product they simply walk out of the store and the payment system that was already set up will handle the purchase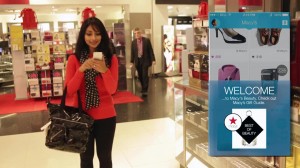 The US retailer, Macy's, has begun to implement beacon technology to give consumers "more personalized department-level deals, discounts, recommendations and rewards."
Consumers simply download the Shopkick app, which is available on iOs and android devices, to receive these personalised & location-based rewards and offers.
There are still many critics who believe that beacons are impractical and invasive but with the right strategy retailers may be able to interact with consumers on a whole new level. I expect many retailers will be reluctant to take up this new technology until consumers become more aware of it and understand how it works.